Babu Kachri is a very popular street food in Mombasa, Kenya. It consists of a thick tangy potato gravy, sprinkled with crushed potato crisps and khara sev (a fried crispy snack made from chickpea flour and spices) and topped with a spicy chutney. It is loved by all ages, from children to adults. The mix is unique because it is a blend of different culture cuisine into one.  From Arab influence to Indian inspired snacks. It portrays what Mombasa is, the fusion of cultures.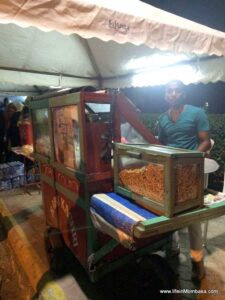 The price goes from thirty shillings per bag or forty shillings. You find the vendors across various streets in Mombasa, they usually operate from a cart.  They normally start selling after 4pm till 6:30pm.
This is how it looks served, you can serve with a cold soda.