Jina langu ni Maureen Bandari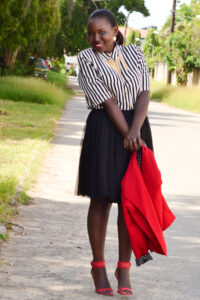 1.Your name and what do you do?
My name is Maureen Bandari and I am a fashion blogger based in Mombasa
2.Who inspires your style in fashion?
I draw inspiration from everywhere, it can be people on the streets, on instagram, celebrities or from fellow bloggers locally and internationally. My all time style icon has to be Soraya de carvalho a fashion blogger in the UK. I love her originality and personalized style.
3.Do brand names matter?
Not really. Of course It will always feel good to wear an item from Emilio pucci, Alexander Mcqueen, Michael kors, Balenciaga etc but style is not about brands. You can still shop second hand items and look like a million bucks. It's all in the pairing, wearing the right outfit at the right time and choosing quality over quantity while shopping.
4.How's the fashion industry in Mombasa?Fashion in Mombasa has a long way to go if you compare it to Nairobi and other cities across the globe. I guess a big part of that has to do with the weather in that the first thing you think about while dressing up is being comfortable and not necessarily stylish. There are few fashion related events here so somehow fashionistas have no common place to meet and sink in all the style goodness. However, that's not to say that we are not trying. Slowly but surely we will get there.
5.If you are stepping out for the night in Mombasa, what would you wear?It depends on where I am going. Most of the time I am in short shorts, a fancy decent top, my face all made up, stilettos and a small clutch for my essentials. Once in a while I switch it up with crop tops and skirts or a nice figure hugging dress.

6.Do you have rules when putting outfits together?I try not to match everything, I also don't wear more than three different colours at the same time, Other than that it's more of a free style exercise. I change at least three times before I can settle on an outfit sometimes
7.What challenge do you have for fashion blogging in Kenya?When brands want you to work for them for free. People are yet to value the time, creativity and passion bloggers put into their work. Also depending on other people to take photos of you. If you have no photographer you literally have to beg friends and family to snap a few shots of your outfit at one point. Even if you have a photographer like me, sometimes they can fall sick, travel or have unavoidable circumstances that make it impossible to shoot. That equals to no content
8.What's the biggest tip you have for anyone wanting to start a fashion blog or website?Don't do something just because people are doing it and you feel you can fit right in. Do something because you have passion for it. Blogging is a lot of work and Sometimes it gets difficult and that love and passion for your work is the only thing that will keep you going. Also stay true to yourself. Don't be swayed by crowds, be unique and dictate your own terms. lastly, be patient. That's the best virtue you can have. Things will eventually look up
9.Name three places to shop in Mombasa.
I still shop in Nairobi most of the time but I can name all places I know so far. I recently discovered Kongowea which is huge on second hand items so if you want a bargain, that's the place. Miss kerre fashions on moi avenue has some nice stuff as well. Mr price can serve those who want current trendy stuff. I visit marikiti for beautiful deras when I need some. Finally, I discovered two online shops on facebook that have physical shops in Mombasa that is complete fashion wear and waridi fashions. They sure have some trendy items
10.Parting shot
I would love to see more fashion oriented events in Mombasa. I know there are so many stylish people and I would love for the fashion industry here to have a voice too. Fashion designers inclusive
Do visit my blog for all things fun,fashion,make up,hair and skin care 