Jina langu ni Aisha Khamis Mwajumlah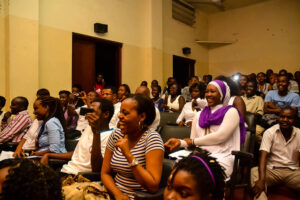 Your name and what do you do?
Aisha Khamis Mwajumlah, I am a journalist, I anchor news at Pwani Tv
Tell us about your educational background?
I am a graduate with a Diploma in Public Relations Management n Diploma in Mass Communication
How do you feel about being a Muslim Woman Tv presenter? Do you receive negative feedbacks?
It's awesome and inspiring even to myself.
There was a movie you were part of, S.A.F.E tell us about it?
WATATU is the 1st movie nimefanya, originally it was a stage play about peace and tribalism yenye tulifanya as SAFE before the previous elections then tulipopata funds it was made a movie ambayo iligusia about extremism and radicalization. It was an interesting experience doing it.
Being a creative in Mombasa is not as successful as Nairobi, will this change in time?
Definitely. Right now artists in Mombasa have known how to spread their liabilities and have come closer together to make a difference. They support each other more and do art as professionals and all this, in time, will make a huge difference. An artist can make it anywhere and Mombasa has so much talent, si lazima uitoke ndio uwe succeful.
Do you think us as Mombasa residents can work together to fix and uplift little theatre club, and how can we go about it?
Yes we can. By appreciating art more. In as much as art is entertaining it is also the artist's livelihood, as residents we should show up at the theatre whenever kuna show natushow support.
Do you have any Hobbies that people don't know about?
Which ones do people know so that I can say the ones they don't know? Anyways, I am a movie person, do some sailing every time I get the chance, I love travelling n I enjoy my time in the kitchen. I love cookin
What advice would you give to young Muslim girls?
This is to all the young girls out there, the society perceive us in a certain way on the bases that we are women and especially wenye twatoka Mombasa,bt it's that time we prove them wrong. Anything is possible; the sky is no longer the limit. You can be whoever u want to be. Know your strengths and maximize on them and also be aware of your weaknesses and embrace them and always aim at being better than yesterday.
Where do you see yourself 10 years from now?
That's tricky coz ya Mungu ni Mengi and with that am just letting His will be done, But definitely I am hopping for the best.
Parting shot
Love your job or what you do for a living because if you don't you won't grow neither will you be productive nor creative and you will always be frustrated.