The 2019 YEPI Governors Startup Challenge Finalists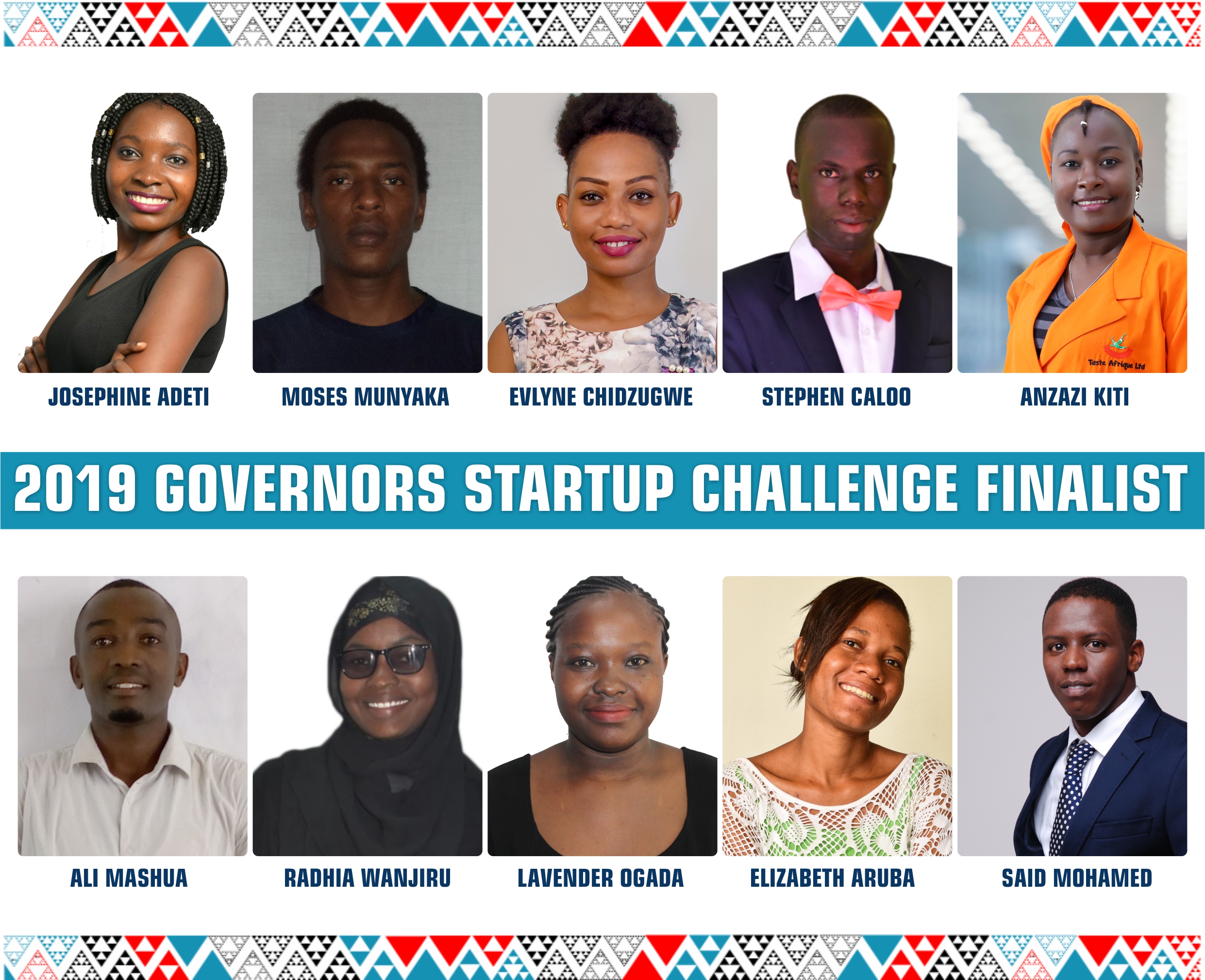 In an earlier post we highlighted the Governors Startup Challenge, one of the programmes of a Mombasa based Youth Empowerment Program Initiative (YEPI) that seeks to stimulate and promote youth led businesses.
The Governors Startup Challenge (GSC) does this by bringing together select young entrepreneurs representing some of the best and brightest startups to compete in designing and building entrepreneurial projects that also solve community problems.
2019 marks the second edition of GSC, and as hinted in the last post this year's edition presented very interesting, ambitious and energetic 10 finalists that earned their way (out of a pool of over 130 applicants) to the Entrepreneurship Boot Camp that epitomizes the GSC.
The 10 young fellows were officially unveiled by YEPI at a networking cocktail event held at Mombasa's Pride Inn CBD hotel.
The industries repped by the #GSC2019 finalists are as diverse as they come with blue economy, arts, health, cuisine, agri-business, event management, media & communications, technology and waste management taken care of.
Below are profile of the 10 finalists:
JOSEPHINE ADETI – AWESCRIBERS
Josephine is the founder of Awescribers, an early stage startup which provides video scribing, augmented reality & 2D and 3D animation services. Her mission is to disrupt the education sector by stimulating the uptake of graphic illustrations as the alternative to engaging and interactive learning experiences.
Her creative productions also aim at changing the narrative of how presentations and advertisements are packaged.
"Participating in programs like the GSC will help me professionalize my project. It also helps me publicize my work, few people knew about it because mostly I used to do it 'chini ya maji'" the creative from Kilifi County says.
Animation skills sound like a complicated skills set to acquire, right? Then you might be surprised to know that Josephine taught herself all this thanks to that old, useful quality: curiousity. And the internet!
"When you are excited about something it's easy to learn. It took one week."
ALI MASHUA – LIKONI CREATIVE CLEANERS SERVICES
Ali'sLikoni Creative Cleaners Services is a community business tackling environmental pollution by providing garbage collection and clean-up services as well as creating awareness on proper waste management practices.
It is estimated that Mombasa produces up to 2,000 tons of solid waste per day. So you think this is all dirt. Ali thinks he is literally 'sitting on a gold mine', plus an opportunity to help in fixing this problem.
"I took a keen interest in the GSC so that I can be inspired. The program has mentors who are basically entrepreneurs who made it from scratch and learning from them can be motivating," says the 20-year old.
ELIZABETH ARUBA – AFRI-FABRIC COLLECTION
Elizabeth's AfriFabri-Collection is a business that up scales fabric waste materials to produce custom made, multipurpose African print bags, pillows, cushions and shaggy door mats. The Kilifi County based social entrepreneur is also a fourth year student at Pwani University.
Apart from word-of-mouth referrals that gives her business, she also markets her products on social media where she sells and make deliveries.
"My long term goal is to enhance skills development especially for the women of Kilifi County. When my business grows I would want to run a workshop and train women on tailoring," she says.
EVLYNE CHIDZUGWE – HEALTHY BAKES
Evlyneis a self-taught baker who is passionate about food. She founded Healthy Bakes, a home based business aimed at providing consumers with freshly prepared bakery, pastry products and educating people on healthy alternative at all times.
Evlyne's healthy baking concept is built around usage of alternative baking ingredients such as millet flour, rice flour, amaranth flour, cassava flour, honey et cetera. Her yummy products are not only for gluten intolerant people and those on diets, but also customers who seek to venture into healthy eating.
"I am also in the process of making lactation cookies which am still perfecting the recipe," she lets on.
ANZAZI KITI – TASTE AFRIQUE
Anzazi is the founder of Nairobi based Taste Afrique Ltd, a healthy food companythat manufactures and sells organic food seasoning products dubbed Chibundiro and Siri spices.
Three years now down the line since the business started, they are growing bit by bit but she has an even bigger vision for it. Anzazi wants to see her brands become Kenya's leading natural food seasoning products and available in all households.
On her participation in the GSC2019, "I saw the vision in YEPIs program and that's why I wanted to be part of this noble intervention. I hope to learn something that I've never learnt in my business journey so far," she says.
LAVENDER OGADA – AFRICA TO MANUFACTURE (ATM)
Lavender is an Agriculture and Enterprise Development Graduate and co-founded ATM as a concept to bring affordable solution to small-holder cassava farmers often experiencing post-harvest losses and exploitation by middlemen.
She and her team aim to be market enablers for cassava farmers through decentralized agro-processed facilities thus killing two birds with one stone; adding value for end user's benefit and offering better prices for farmers.
"We need capital to make our idea work and I saw this (read Governors Startup Challenge) as an opportunity to access an asset that will grow our business," she quips.
SAID SHARIF – COBRA EVENT SEC.
Said is the founder of Cobra Event, an event security company that aims to recruit and train marginalized youth on conflict management, customer care, health, safety and physical intervention skills in order to create job opportunities.
With some experience having worked in the sector abroad, he thought that by training college-going as well as youth who never had a chance to pursue tertiary or higher education studies in event security it would empower them to eke out a living.
"The idea came when I was in the UK, and before I left my home in Kisauni (Mombasa County) there had been increasing cases of youth crime. Apparently idleness was cited as the root cause," he narrates.
That's what motivated the birth of Cobra Event Sec. To provide the youth in his community with part-time gigs.
MOSES MUNYAKA – AQUACULTURE
A 19 year-old student at Thika Training Institute, Moses' entrepreneurial light bulb is to start a fish farming project in the sea areas of Jomvu in Mombasa County addressing the issues of sea waste management and boosting protein intake around the coastal communities.
Let's face it, traditional fishing practices & techniques are simply no longer sustainable in the long run and this equals to danger in terms of sea-food security. Fish cage farming is the future of fisheries with the potential to boost food production and supply.
"I believe lessons I'll take from the Governors Startup Challenge program will be impactful in bettering my idea," he says.
STEPHEN CALOO – MWANGAZA DAIMA MEDIA
Stephen is creative and passionate about youth matters. His digital media agency empowers young people through impactful storytelling by sharing content on issues affecting the youth and possible solutions via its Mwangaza Magazine.
It all started in 2016 as a campus publication, but went on to rebrand outside university to accommodate a wider audience as well as to assume a more serious outlook in terms of content offering. It has since grown to also include a commercial wing providing branding services.
"Each one of us has a talent which they can use to develop themselves and others," he advises.
RADHIA WANJIRU – MIND TO CANVAS
She is strong, is simply how you can describe Radhia. The 24 year-old almost got crushed by the jaws of depression, but this courageous and energetic young woman fought back and eventually founded Mind To Canvas.
Yes, Mind To Canvas because she's a gifted artist and given her experiences, she chose to start a social enterprise that employs art to pass across social messages around mental health themes.
"At first I didn't use to sell my (artwork), but my friends encouraged me to because they liked them," she says.
"Though I realized most people don't understand art and that's why they don't buy artwork. So I incorporated mental health messages to sell the idea that drawings (and paintings) are just as valuable as books. And now people are starting to buy."