Experience Bamburi Beach
Jomo Kenyatta beach also known as Bamburi beach is known for many reasons, first being a public beach it is open to anyone.  The open areas allow anyone to picnic at the beach, and enjoy the sea breeze.  You can take a walk on the white sandy beach, or go for a swim.  There other activities you can do at the beach with your family or friends and have a memorable experience.
Glass Bottom Boat ride
You can take a glass bottom boat ride and view the different Marine Life, including different species of Fish, Crabs, corals, sea urchins, jellyfish, sea stars, and sea cucumbers. The bottom ride goes for about 30 to 45 minutes for kshs 3000.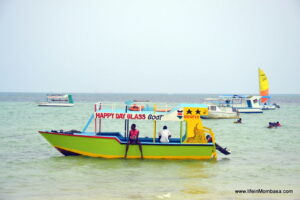 Sail boat
You can go on a sail boat and try your hands on maneuvering a sail depending on the wind direction. A unique way to experience the sea, and learn your strength.  The sail boat goes from about kshs 1000 to kshs 2000 depending on the distance.
Camel ride
A camel ride is one of the most common attraction at the beach; it is one of the most common tourist attraction.  The experience is unexplainable making it a must for anyone to try. The price goes from kshs 200 for adult to kshs 150 for a child.
Snorkeling at the Marine Park
The Mombasa Marine Park is home to a colourful variety of marine species including crabs, starfish, stone fish, cucumbers sea urchins, corals, turtles, sea grasses.  At Bamburi beach they offer snorkeling to the Marine Park at kshs 5500 per boat ride (including snorkeling gear), takes about 30 to 40 people.  Entrance fee at the Marine Park is kshs 150 adult and child.
Boat Ride and Tubes
You can take a boat ride and just look at the different areas of the sea for kshs 200 per person. Or if you decide to take a tire tube for a swim on the shore of Bamburi is also kshs 200 per day.
These are just some of the activities you can experience at Jomo Kenyatta beach ( Bamburi Beach), once you are at the beach you will see the different beach activities offered.