Jahazi Seafood Grill – Serena Beach Resort and Spa
Picture yourself seating by the beach eating exquisite and delicious seafood grilled to perfection, this is what Jahazi Grill at Serena Beach Resort and Spa is all about. Located in Shanzu, Serena Beach resort is one of the oldest resort in Mombasa, they opened its gate in December 1988. Built to replicate the 13th Century Swahili town of Lamu, the resort has over 160 rooms, top award spa and an inclusive conference center.
In the middle of Serena Beach Mombasa, you will find Jahazi Seafood Grill. A seafood restaurant offering A la carte seafood menu, with a scenic beach view. Their menu ranges from prawns and lobsters to vegetarian options to cater for everyone's tastes. The stand alone building is situated away from the hotel. It has two floors and the one on the ground floor has a bar, a grilling station and a sandy waiting lounge. The entire Jahazi Grill has been designed in the shape of a dhow, with the internal layout giving an experience similar to that of being in a real dhow. The peace and tranquility around it makes it a perfect place to have lunch on a saturday afternoon.
We arrived at Serena at 12:30, right in time for lunch. We were greeted with wonderful smiles from their staff. We decided to seat near the captain's corner so we could have the view of the beach.
The ambience was inviting and relaxing, we ordered Crab cakes and Mezze for starters. Spicy seafood chowder for soup, which was mixed with seafood and fish infused in coconut milk, plus mediterranean fish soup. For the main course, we ordered Skewered Jumbo prawns and Jahazi grilled lobster served with chips. Both the prawns and lobster were grilled to perfection, each ingredient added made the taste unique and satisfying. The prawns and lobster served were very fresh, we could tell from the taste and whiteness of the meat. The tantalizing and exotic aroma of the prawns was mouthwatering, the minute you take bite you can definitely feel the chef's magical touch. The Executive Chef, Alykhan Jamal  – joined Serena Beach Resort & Spa in April 2010 has been creating exquisite meals. A basket of bread was placed on our table with a variety of baked breads, a compliment to the delicious soups.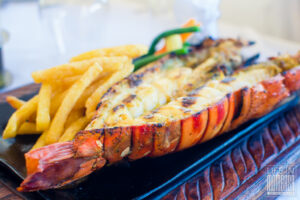 We ended our meals with a dessert , chocolate fudge cake that was sweet and moist. The Cake was coated with an outer chocolate ganache, which melts in your mouth. Topped with orange piece and berry to give you a sweet and savory taste. Jahazi grill is an ideal place to visit with friends and families, the ambiance is perfect for a relaxing meal while enjoying the sea breeze. They are open Monday through sunday : Lunch 12.30pm – 2.30pm and Dinner 7.30pm – 10.00pm.
Lunch at Serena Beach Resort and Spa in Pictures: 
[flickr_set id="72157681799461750"]