Redefining Healthcare: Premier Hospital
Premier Hospital is the home of Compassion, Care and Competence.  Premier Hospital is serious about your Health and Wellness. They offer a wide range of quality, affordable services with the best customer service in the region. Located on Links Road in Nyali, Mombasa, it is easily accessible and serves clients from all the 6 counties of the Coastal Region.
The hospital provides all services; A 24/7 Ambulance, Emergency Care, Outpatient/Inpatient, Maternity and New Born Unit, Intensive Care Unit, High Dependency Unit and Operating Theatres. All rooms have WIFI access and DSTV for a comfortable stay. Premier hospital has state of the art and well maintained equipment to enhance diagnosis and treatment.
The hospital is reasonably priced and offers value for money. For example, consultation with a qualified doctor is only Ksh1000/- and most of the major insurance cards are accepted. The insurance companies include, Resolution, Jubilee, Sanlam, Saham, APA, First Assurance, Madison, UAP/Old Mutual, GA Insurance, CIC Insurance, Minet, Liason and Kenbright. They also accept international insurance cards such as Cigna, Aetna and Now Health.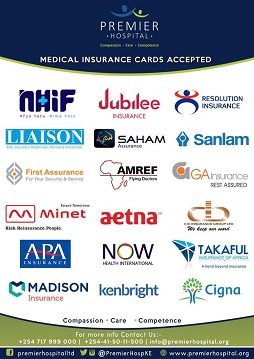 Premier Hospital accreditation with NHIF makes it even more affordable. With your normal NHIF card, you can access the following services paid for by NHIF: Ultrasound, CT Scan, Dialysis, all Surgeries and part of the daily bed rate. If you are civil servant (higher job groups), a member of the Kenya Police/Prisons (all job groups) or your institution has an enhanced cover with NHIF, then all services are fully covered by NHIF. Note that all these procedures must be pre-authorized by NHIF and this is done on your behalf by the hospital.
Premier Hospital has ALL Specialists available including: Pediatricians, Gynecologists (both male and female), Surgeons and Physicians.
The hospital also runs weekly Antenatal, Well Baby, Nutrition and Chest Clinics.  Premier Hospital also has a Dental Unit that operates Monday to Friday during working hours.
Premier Hospital is big on Customer Experience. From the moment you arrive, you will be received by a dedicated Concierge who will welcome you with a smile and ready to expedite your needs. They know your time is valuable and waiting time is monitored. There are feedback forms as well as a dedicated Customer Care Hotline where you can give direct, immediate feedback on their services. If you are admitted, the Customer Experience Team does daily ward rounds to find out how your stay is going in the hospital. They will also call you after your visit to find out how you are doing and how your experience was at the hospital.
Premier Hospital is here to give you the best medical care within the shortest time possible. They are Redefining Healthcare in the coast region, one patient at a time.
Inside Premier Hospital:
[flickr_set id="72157708841129062"]